The long awaited Moodle 2.3 is out. It took a little bit of time but after looking at what's in it I can tell you that its jam-packed with Moodle goodness and is WELL worth the wait. In this post I am going to take you on a bit of a whirlwind tour of the major changes in Moodle 2.3. So hang on tight!
Drag and drop
There has been a massive change to how to get your files into Moodle – it's now so easy. You can now literally drag and drop your files into Moodle, right into your course topics – easy! Moodle has become an extension to the teachers workspace.
The video below shows what happens to your Moodle course interface when you drag a file on to it – pretty cool eh?
File API
There has been dramatic improvemnents in the file picker. You can now easily just drag and drop files instead of using the file picker. Rather than create copy of files that you include in your course Moodle is now been very smart by giving you the option to link to your file rather than creating a copy for within Moodle. This saves on disk space and also relieves those multiple versions of the same file headaches. One quick note on this is that only some repositories support it but I suspect that plugins for most of the repositories won't be long coming.

No more "Add Activity" dropdown
The old form dropdowns to add resources and activities are now gone. In its place is a very slick looking hyperlink "Add an activity or resource" which brings up all the different types of Moodle activities that are available.
Bye bye form-based interface from the 2000s and hello slick web interface more at home in this decade.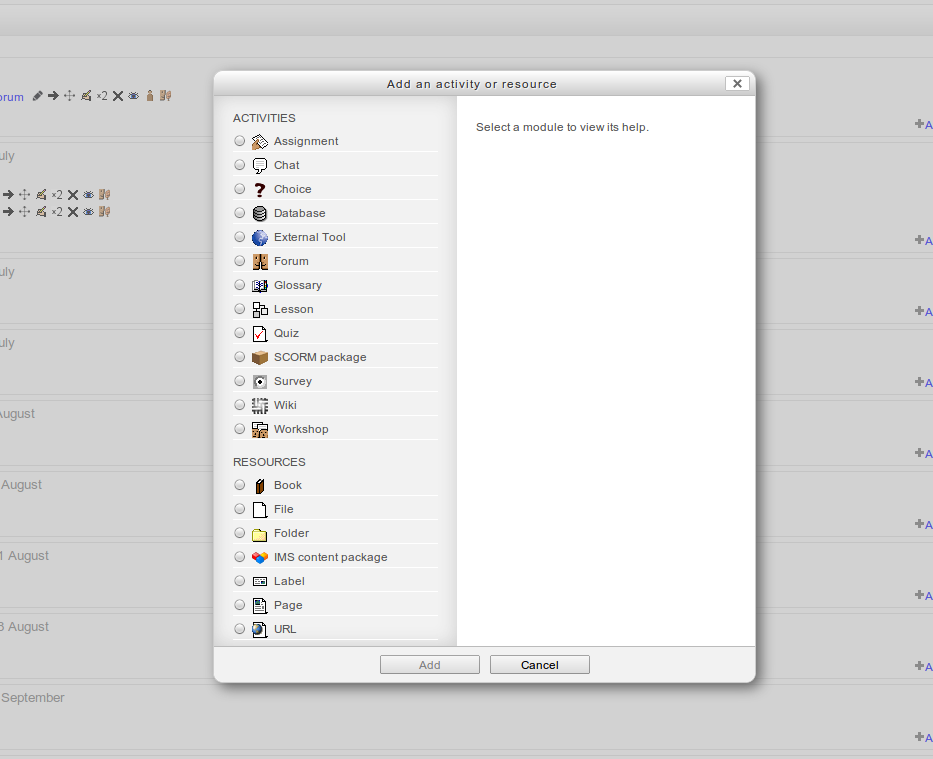 Just one Assignment
All the different types of assignments available in Moodle have been merged into one. This new assignment activity has a variety of settings that allows you define the type of assignment you need to assess your learners. Need files to be submitted, need online text, need to be able to upload files as responses to your student assignment – no problem the new assignment options allow you to do all these things plus many, many more. Why not have a read through the MoodleDocs on the new assignment activity – http://docs.moodle.org/23/en/Assignment_module
Book Module
The very popular book module is now out of the box with Moodle 2.3. This is great news as it's a very popular and useful activity which provides a multipage resource with a book like interface. To read more about the book module – http://docs.moodle.org/23/en/Book_module
Section per page
Got a big course? Find you and your students need to scroll a lot to locate course resources? Great news Moodle 2.3 provides for a new course user interface known as section per page. Section per page displays one section per page. Allowing students concentrate on one topic area of the course at a time. Links at the left and right of the topic section provide easy navigation to the previous and next topics respectively.

Editing
You can now edit the name of a Moodle resource or activity very quickly. Simply click on the pencil icon. This allows you to quickly change the resource or activity name without having to go into the resource or activity settings.

An editable resource name is shown below – so simple!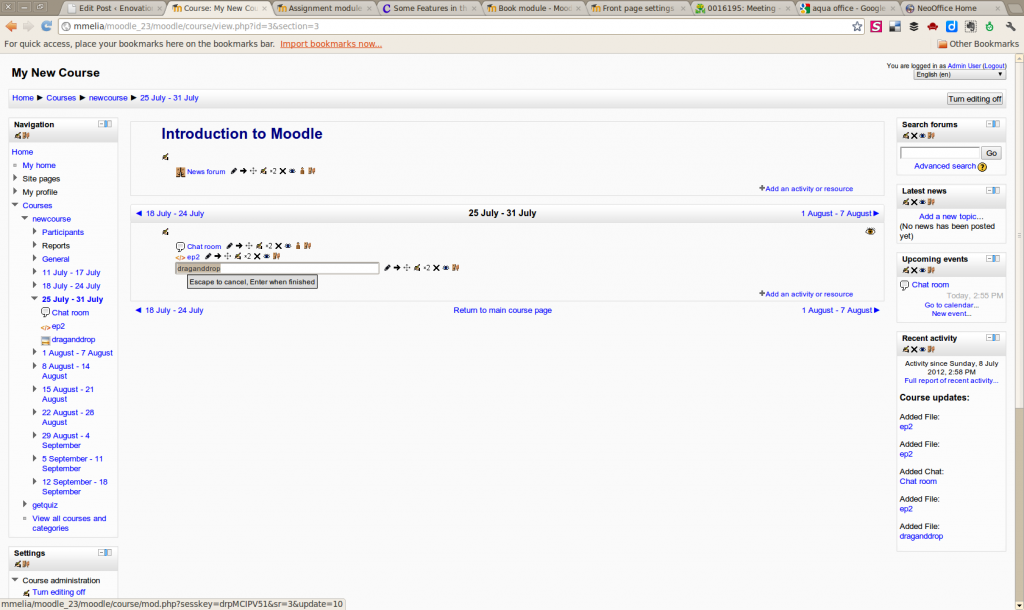 Summary
Here we have outlined just some of the really great features coming out as part of Moodle 2.3. To get a complete list of all the changes have a look at the release notes on Moodle.org – http://docs.moodle.org/dev/Moodle_2.3_release_notes
Want to have a chat about the new feature? We do too 🙂 – just give us a shout here at Enovation.