IntelliBoard's real-time analytics and reporting plugin for Moodle and Totara Learn is now available to Enovation's customers.
IntelliBoard provides analytic and reporting services to education communities and institutions who use Moodle and Totara Learn as their Learning Management System. Intelliboard helps you extract the statistical data gathered available in Moodle and Totara Learn and presents it on a single dashboard in the form of printable charts, graphs, and multiple formatted reports.
Enovation's clients can seamlessly access IntelliBoard's user-friendly, on-demand reporting that extends the reporting capabilities of organic Moodle & Totara Learn, with easy-to-read charts, graphs, tables and more. Institutions can use IntelliBoard's analytics platform to make informed and prompt educational business decisions with real-time data; improving workflow for businesses, educational institutions, and other Moodle and Totara users.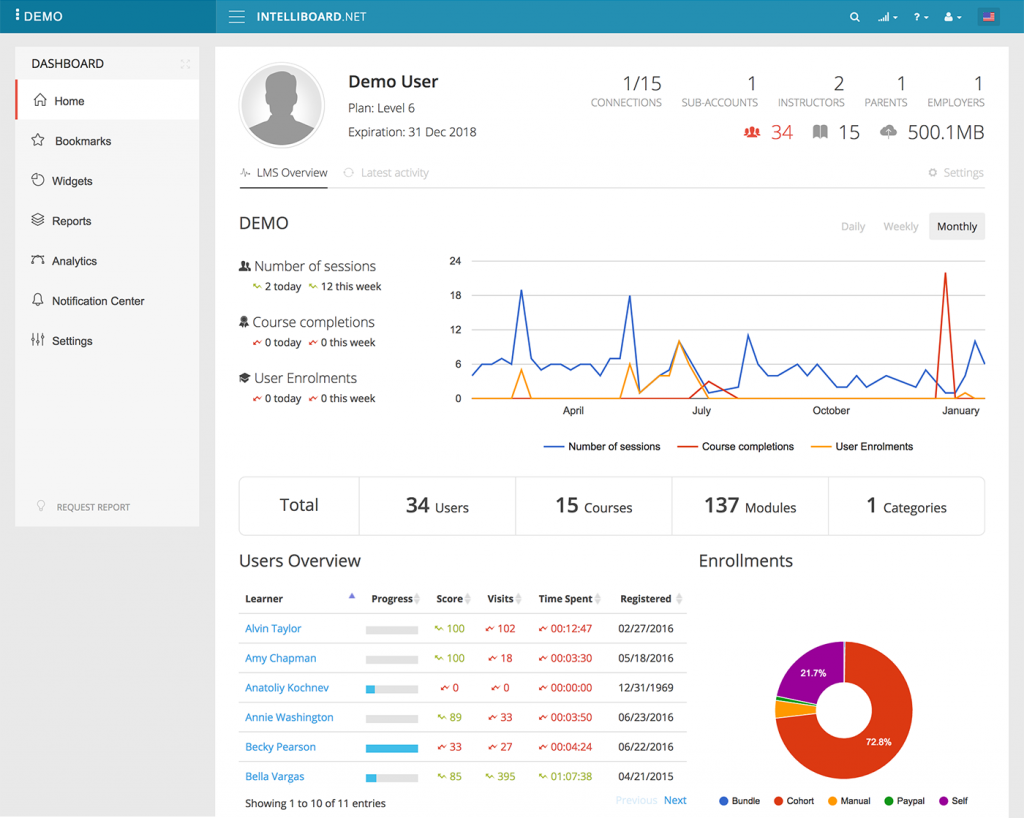 This partnership provides Enovation's clients with unlimited number of accounts for instructors/ managers/ advisors/ support personnel. Clients also receive 24/7 client support, and opportunity to request custom reports.
Anatoliy Kochnev, IntelliBoard's CEO shared, "We are thrilled to partner with Enovation, a leading European Moodle & Totara Partner, and expand IntelliBoard's reporting and analytics to English speaking countries. Together, Enovation and IntelliBoard offer tools that can inform, drive, and focus learning in ways that Moodle™ LMS & Totara Learn users never previously had easy access to do – making both LMS the comprehensive leaders in online learning environments."
Gary Mahon, Director of Enovation stated, "Enovation is happy to join the Intelliboard Partners community, to better serve our clients and partners with end-to-end solutions and services for eLearning. IntelliBoard gives Enovation's clients a unique opportunity to access the most complete and easy-to-use pedagogical reports for Moodle & Totara users. After years of contributing to the Moodle & Totara communities, our team is proud to join the IntelliBoard partnership."
If you want to add IntelliBoard to your Learning Management System, feel free to contact us!