Actavo, a leading international strategic operations partner operating in 100+ locations, have teamed up with Enovation Solutions as their Online Learning Solutions & Moodle Partner.
With a global workforce of 4,500+, they operate in diverse and demanding markets, offering a breadth of services in a variety of sectors, including power generation, marine, petrochemical, nuclear, home energy, satellite and telecommunications, education, healthcare, events services, civil engineering, water and construction.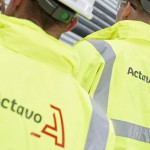 They are one unified team composed of many dynamic parts. They deliver Network Solutions, In-Home Solutions, Industrial Solution, Hire & Sales Solutions, Building Solutions and Event Solutions to the world's leading companies.
As Ireland's official Moodle partner, Enovation Solutions engaged with Actavo and now provide a full online learning solution empowering employees and their managers to take ownership of L&D requirements. From our many years of experience we know that, when it comes to eLearning, our clients – even those in the same sector – often have very different requirements. We have taken the best of breed open source LMS – Moodle – and developed custom components as well as porting Modules from other community products, to give our clients choice. We have also added support for the Totara LMS to cater for the needs of enterprise clients.